The Sparkfun Freeday was a sale on January 7th, 2010, where Sparkfun, and electronics component, kit, development tools, and suppliers online store, allowed people to receive up to $100 each of free product in their order placed after 9AM MST (11AM EST).
As they announced this months ago, and it was widely reported in a variety of places, it was not expected to last long, despite Sparkfun's optimism in calling it a Free Day.
Despite recent upgrades in December, the servers started chugging under an increased load on the 6th as people shopped and added parts to their shopping cart, assuming that the site would be too busy to both shop and check out the following day.
The site strained under the load all morning in the lead up to the sale, and nearly 2,000 people connected to the IRC channel.
I finally got to the "submit order" just as it ended, and missed out by seconds - after 1 hour, 44 minutes, and 50 seconds the $100k was gone.
It was a fun game, and entertaining. It was listed 4 times
in Google's top 10 search phrases for the last hour, and twitter's trending topics twice (#sparkfun and #freeday).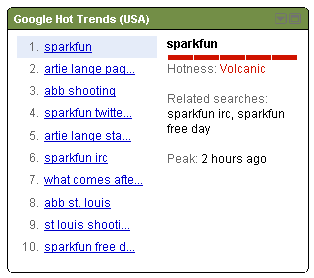 It was far more effective than a superbowl ad, and at a cost of around $50k (assuming a 50% profit margin on most products) it was far, far cheaper.
Furthermore, I can't imagine all the data they can mine from the
incomplete customer carts to guess at what people want, but won't buy unless it becomes cheaper.
All in all, I don't think they could have spent that $50k better than they did.